AICUF foundation day and Constitution day celebrated
On : 01-Dec-2022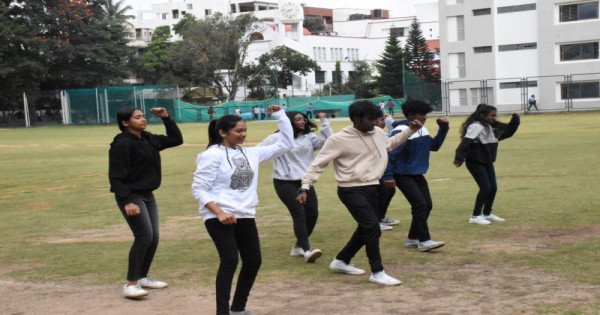 The Bengaluru Zone AICUF inter-unit meet was held at St Joseph's University, Bengaluru on the occasion of AICUF foundation day and Indian Constitution Day - November 26, 2022. This event which was initially announced in the AICUF group slowly gathered momentum after the meeting on November 10 where the modalities were discussed and responsibilities assigned. On November 25, the students from St Joseph's College of Law enacted a moving and inspiring street play at 6 p.m. at the war memorial park to create awareness on the importance and sanctity of the Indian Constitution.
On November 26, a formal programme to mark the Constitution Day was held. In his address to the students Fr Maxim Dias SJ, AICUF state advisor, highlighted the importance of the day's events and the significance of the Constitution as a means to liberate and guarantee rights to all citizens. He stressed how AICUF must endure and become an instrument to embolden constitutional values. Dr Akkai Padmashali, prominent activist, stirred the students to read the preamble together. She then spoke about her works in society and how we could be a help in transforming our communities through our actions following the values written in the preamble. She emphasised the daily and conscious living of constitutional values.
Prashant Kumar, animator and former recipient of the Yuva Ratna, gave an anecdotal presentation alluding the menace of anti-social elements in society. He pointed to a reality where there are many who intentionally try to divide people in the name of caste and religion and how to counter them factually. "AICUF can and must respond to these damaging ideologies with hope and courage," he said.
Inter-unit sports day marked the culmination of the day's events. Dr Akkai and Prashanth inaugurated the meet and various events such as cricket, throw ball, volleyball, chess, carom, badminton and table tennis. Each unit also performed a thematic flash mob as the crowd participated and cheered on.