NECCB holds Christmas celebration  
On : 19-Jan-2023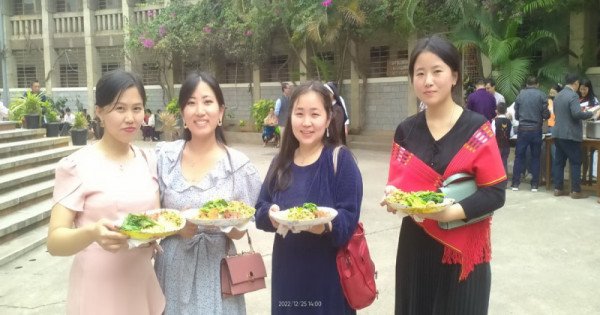 North East Catholic Community, Bangalore( NECCB), Catholics hailing from different states of North East India, organised Christmas celebration. It was organised under the guidance of Fr James Kap Sian Muang SJ, the new Chaplain of NECCB.
There were more than a hundred people for the Christmas celebration, which included priests, brothers, sisters, and lay persons. Introuducing the theme of the day, Fr Sian Muang SJ spoke about how even though the members present were from thirteen different tribes (Kuki, Mao, Rongmei, Paumei, Meitei, Khasi, Adivasi, Vaiphei, Suantak, Zou Aka, Mizos and Tangkhul), they had all come together to celebrate the birth of Jesus.
The Christmas celebration included several items. It began with adoration led by Fr Paul Lelen of the Imphal Archdiocese where those present were invited to spend time inviting the bably Jesus into their hearts. This was followed by the sacrament of reconciliation. Fr Benjamin Kodai of the Imphal Archdiocese was the main celebrant for the Eucharist. Fr Kokto Kurian, of Kohima diocese read the Gospel while Fr Paul Lelen explained the origin and history of Christmas. He especially emphasized the importance of Christmas for Catholics by highligting the significance of the incarnation as seen in the word Emmanuel - God with us. The Mass was particularly beautiful because of the melodious singing of those present. Some time was allotted for the singing of Christmas carols. The carol singing was followed by party games conducted by Fr James. These helped those present to go beyond their friends circle and tribal groups. The fellowship meal that followed helped all those who were present to truly feel the celebration of Christmas.